Healthcare recruiting is essential for ensuring that organizations have access to qualified, competent healthcare workers who can provide quality care. As a healthcare recruiter, you must understand the recruiting process and implement steps to attract and retain quality talent.
By utilizing effective recruiting methods, you can help organizations to stay competitive, fill critical positions, and ensure quality patient care.
What is Healthcare Recruiting?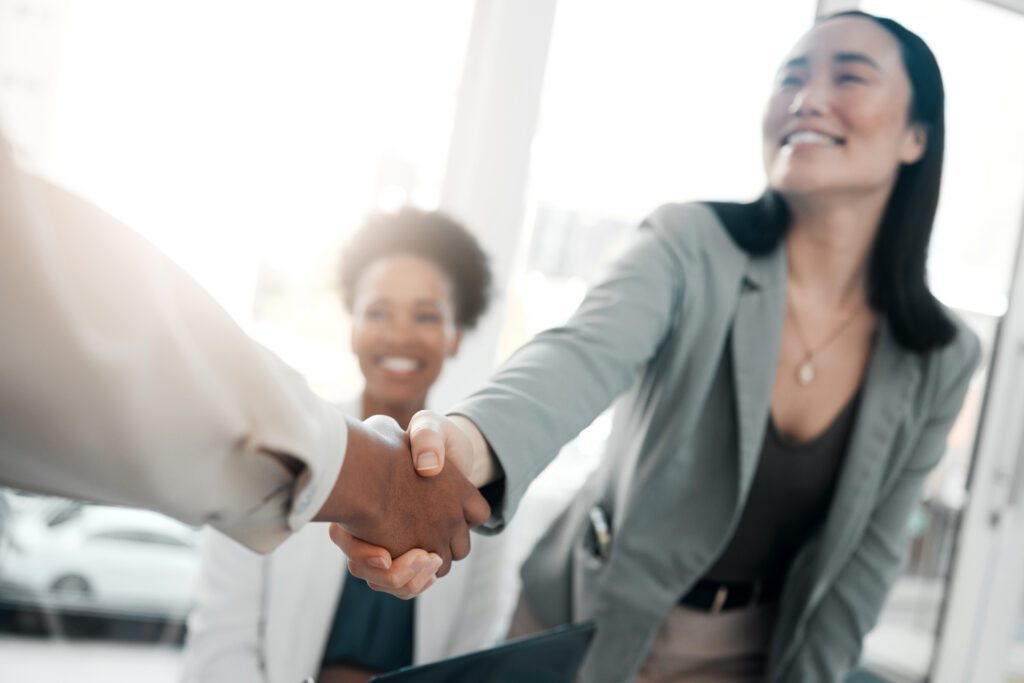 Recruiting in healthcare is targeting and selecting qualified healthcare talent to fill positions within an organization's medical staff. The recruitment process includes the following:
Determining the type of talent needed

Advertising open positions

Providing job descriptions

Recruiting potential hires

Evaluating applications and resumes

Making hiring decisions and onboarding
In the current industry, it is becoming increasingly difficult to stay competitive. By recruiting qualified talent suited to meet a healthcare organization's needs, you can better serve patients and stay ahead of competitors.
The Impact of Healthcare Recruitment on Patient Experience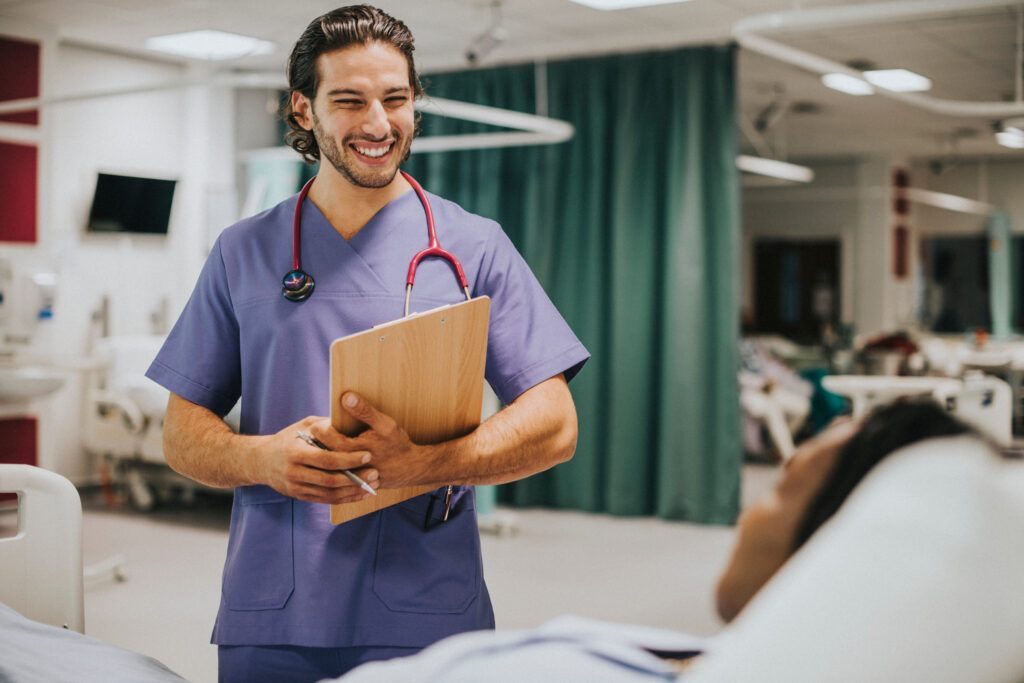 Unlike other industries, healthcare recruitment directly impacts patients' satisfaction and well-being. By recruiting the right candidates, you can ensure that patients receive the highest quality of care.
Recruiting a candidate with soft skills and clinical knowledge allows an organization to provide better treatments and services while minimizing risk.
Furthermore, recruiting healthcare workers with compassionate attitudes and excellent qualities enables organizations to provide a more positive patient experience.
By recruiting talented healthcare workers, you can ensure patients receive the care they deserve.
Benefits of Healthcare Recruitment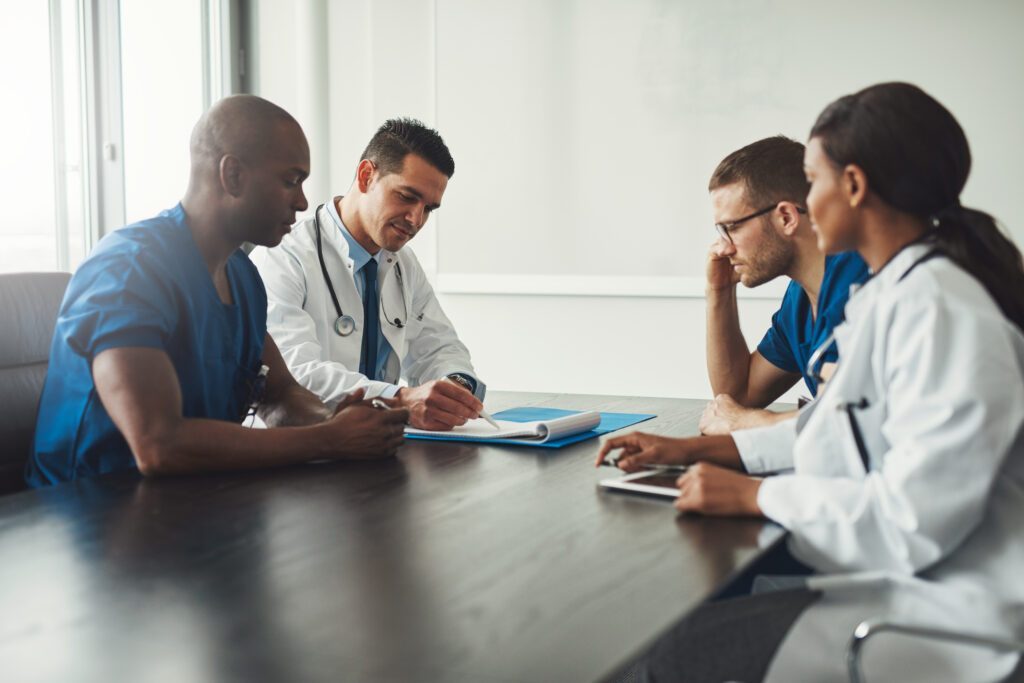 Prioritizing effective hiring tactics within the healthcare industry leads to positive outcomes for organizations and patients alike. Understanding these benefits as a recruiter is essential to strengthening your recruiting processes.
Increased Access to Top Talent
Recruiters have the opportunity to connect with ever-expanding talent pools. Having an applicant pool of highly-qualified healthcare professionals who might not be available through traditional channels gives you a competitive advantage in the industry.
As a recruiter, you can develop relationships with job seekers, helping them understand their needs better and ensure they are the best fit for a healthcare facility or job opening.
Improved Organizational Efficiency
Healthcare recruiting strategies can play a crucial role in improving the efficiency of the hiring process. By streamlining the hiring process, you can help organizations reduce the costs associated with long and complex hiring processes.
Additionally, implementing automated solutions such as online application forms and applicant tracking systems can help to reduce administrative overhead and enable human resource professionals, department heads, and other workers to focus on high-level tasks.
Cost-Effective
Recruiters help healthcare organizations save money and reduce time spent strategically finding suitable candidates for vacant positions. Strategic recruitment uses data-driven approaches to quickly identify and target job seekers with the necessary skills and qualifications for an organization or role.
This approach can help healthcare organizations save on recruiting costs typically associated with traditional hiring methods.
Adaptable to Changing Needs
Healthcare organizations must be agile and adaptable to changing needs to stay competitive in the job market. Healthcare recruitment streamlines this process by strategically identifying and deploying new talent sources, modifying existing recruitment processes when necessary, and continually evaluating the hiring process of organizations.
Enhanced Candidate Experience
As a recruiter, you can create a compelling candidate experience, which can impact the employee retention outcomes of an organization.
By providing clear job descriptions, timely communication, a transparent selection process, and easy-to-access application materials, you can cultivate a positive experience.
Prioritize Diversity and Inclusion
Recruiting efforts can be used to create a diverse and inclusive healthcare field. Utilizing targeted outreach strategies, such as recruiting from underrepresented populations, will help you to promote a healthcare industry that fosters equity in the workplace.
Prioritizing inclusivity in healthcare staffing is critical to establishing a healthy work environment for potential and current employees. An organization with a team of diverse healthcare workers also directly benefits patients.
Strategies to Recruit Top Talent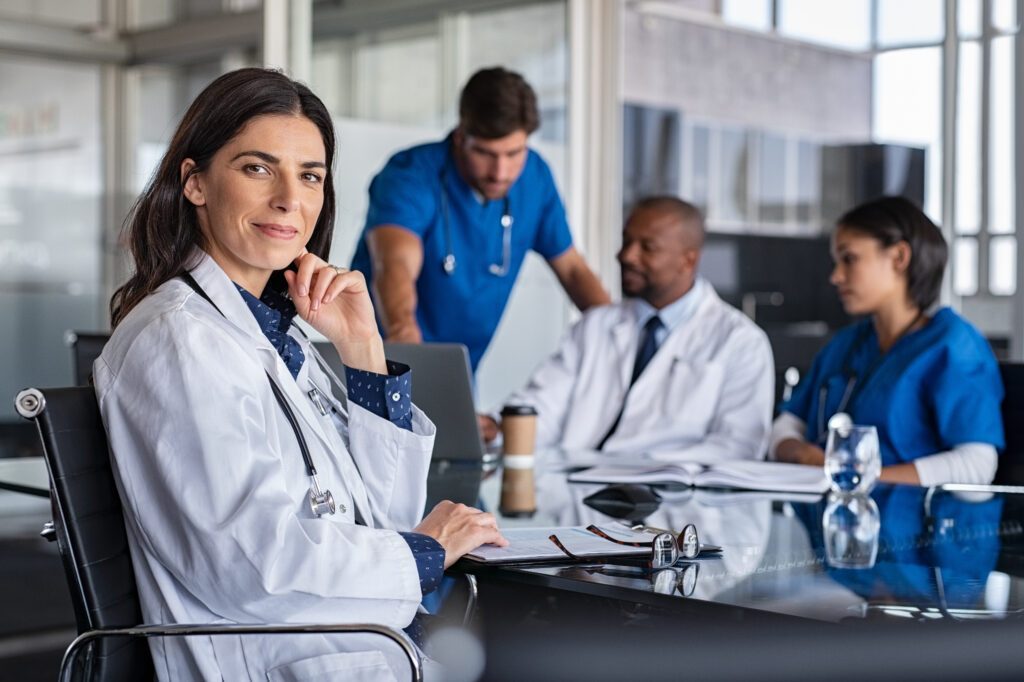 Sourcing and recruiting top talent is essential to maintain or improve patient and organizational outcomes. By sourcing and recruiting the best healthcare workers, you can ensure that organizations have a highly-skilled team equipped to handle the challenges of providing quality care.
Healthcare recruiters are tasked with identifying qualified candidates who meet an organization's hiring criteria and view providing quality care as a top priority.
Recruiting top talent requires recruiters to be creative when developing strategies for sourcing potential employees.
Implement Effective Recruiting Strategies
Implementing effective recruiting strategies can help you to identify and acquire the most qualified healthcare workers. To accomplish this, creating an effective recruitment plan that includes various activities such as research, networking, employer branding, targeted campaigns, and social media initiatives is essential.
Additionally, it is essential to develop relationships with candidates before they are needed to understand the healthcare industry and build a talent pipeline.
Utilize Technology to Source Talent
Utilizing automation and technology within your recruitment strategies is key to sourcing top healthcare workers. By leveraging technological advances, recruiters can quickly identify qualified professionals for their vacant positions.
AI-Driven Job Boards
AI-driven job boards are becoming increasingly popular and can be a valuable tool for healthcare recruiters. These job boards use artificial intelligence to filter through many job postings and quickly identify the ideal candidate for an open position.
Additionally, they provide an opportunity to attract passive candidates by leveraging machine learning algorithms that analyze millions of data points such as job titles, skills, and qualifications.
Social Media Platforms
Social media platforms are a great way to reach potential candidates and get your message out to a larger audience. By posting job openings or linking to your careers page on social networks such as LinkedIn or Twitter, you can quickly reach qualified professionals who may be interested in the position.
You can also create engaging content when you post a new job listing. This generates excitement around the available position and encourages more professionals to apply.
Social media can also foster relationships by engaging candidates in conversations and responding quickly to inquiries. This will help create an atmosphere of trust and ensure that you can get an accurate representation of a candidate's skillset before making a hiring decision.
Data Analytics Tools
Data analytics tools are a great way to gain insights into your recruitment efforts and help you identify areas of improvement. These tools can be used to track statistics such as the number of applicants, time-to-hire, and source of hire, which can provide valuable insight into how effective your recruitment strategies are.
Additionally, using data analytics tools will allow you to quickly identify qualified candidates and focus on developing relationships with those most likely to succeed.
With data analytics, you can easily track and analyze recruitment metrics to make informed decisions about where to focus your efforts.
Leverage Recruiting Networks
Leveraging recruiting networks can be an effective way to source top talent. Building relationships with universities and professional associations allows access to a broader pool of possible employees.
Additionally, it provides an opportunity to gain valuable insight into industry trends and the latest developments in the healthcare sector. These connections also come with benefits like staying updated with industry news and developments and gaining access to hard-to-find candidates.
The Connection Between Recruitment and Retention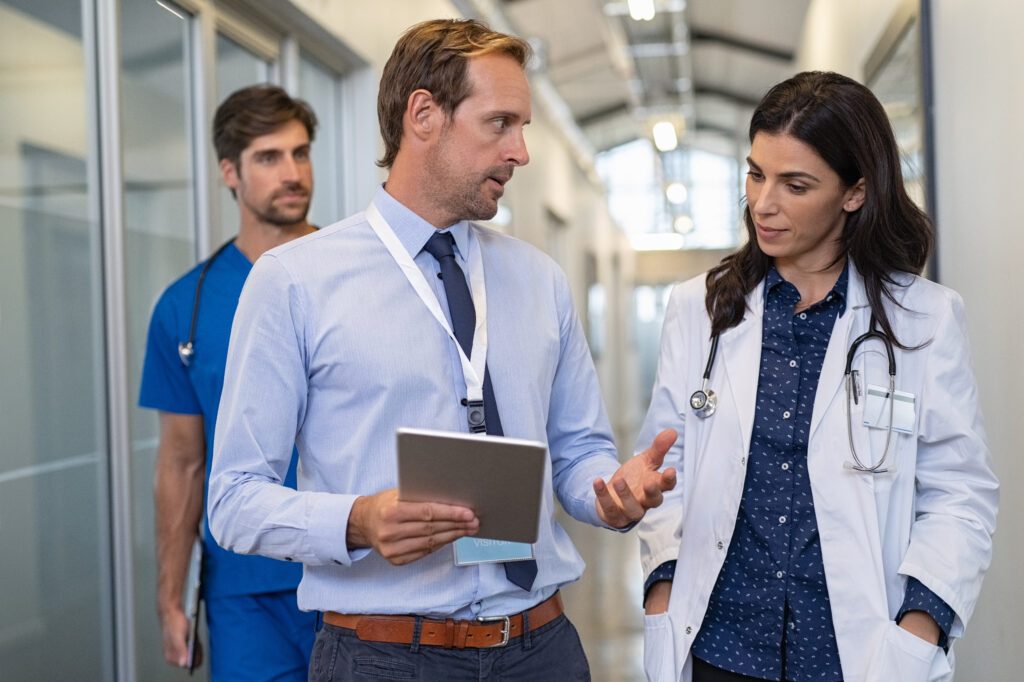 Healthcare recruitment and retention are inextricably linked, as having the right team enables healthcare organizations to deliver the best possible outcomes. A successful recruiter recognizes the need for a new hire recruitment strategy and how to retain employees and build a strong workforce.
Investing in measures that support retention and recruiting can ensure that organizations have a stable and competent team to meet their operational needs and maintain excellent patient care standards.
Develop an Effective Onboarding Process
Developing an effective onboarding process is essential to ensure new hires become productive and engaged employees. A comprehensive onboarding program should include various activities such as job shadowing, training programs, and team-building exercises.
Investing in training and professional development opportunities can help encourage employee engagement and fill open positions.
Establish a Culture of Engagement and Collaboration
Establishing a culture of engagement and collaboration is essential to ensuring healthcare professionals stay motivated and engaged. Creating an environment where employees feel valued and appreciated can help to foster loyalty, reduce turnover, and improve job satisfaction.
As a recruiter, you can work alongside employees and organizations to ensure that healthcare teams work together in an open, collaborative environment. Additionally, enabling team members to contribute their ideas and insights can help drive innovation and support positive organizational morale.
Prioritize Effective Communication
As a recruiter, you serve as a point of contact for candidates to ask questions, voice concerns, and access information. You need to maintain open lines of communication with candidates throughout the process.
By creating an environment where new hires feel comfortable asking questions, you establish trust that will result in successful outcomes. Consider establishing regular check-in meetings or offer support and guidance to your candidates as they adjust to new roles.
Strengthen Your Healthcare Recruitment Strategies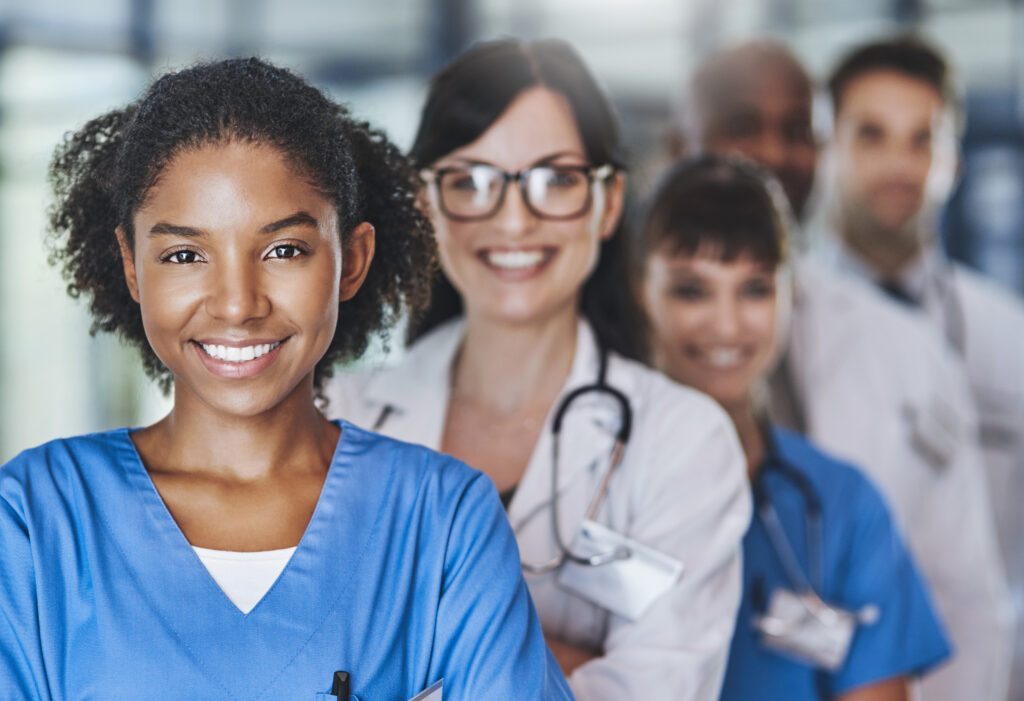 Healthcare recruitment is an essential part of any successful healthcare organization. By investing in effective recruitment strategies, you can access a great candidate pool, reduce costs, and improve efficiency while creating a team that will help organizations deliver the best possible patient care outcomes.
Recruiters must continually evaluate hiring strategies to ensure they are taking full advantage of available tools and technologies and utilizing methods that foster recruitment and retention.
With the right approach, healthcare recruiters can be confident they provide organizations with the best employees.
About TrackFive
TrackFive operates industry-branded recruitment platforms that help hiring organizations to acquire specialized talent in niche markets.
Unlike generalized job sites, TrackFive uses its recruitment technology to power numerous career platforms deployed in verticals with massive hiring needs.