Major update in the life of TrackFive: we moved into a new office! This year has been marked by change after change, but this is one we couldn't be more excited about after working from home since March of 2021. President Oliver Feakins knew that TrackFive was ready for a new office. He wanted it to look next level and help take the company to the next level…and this remodeled space does just that! Join us for an office tour as we take you through some of our favorite spaces, explain meaningful details, and give you a glimpse of what life looks like at TrackFive in our brand new office!
Welcome to the new office!
Our new office is nestled right outside the heart of downtown Lancaster. This allows the space to maintain the energy and excitement of the city. Plus, it's no secret that we love to wine and dine here at TrackFive. Its central location to many of our favorite restaurants and breweries is quite the bonus! As you walk through our front door, you're greeted by smiling faces (underneath our masks), and a graffiti wall that bears our company name with pride. Shoutout to local graffiti artist Ramon Trevino for his amazing work throughout our new office!
You may not know this, but a 'spirit animal' is given to TrackFive employees after working here for six months. There are spirit animals in graffiti throughout the office, so make sure you keep your eyes open. Look out for Oliver's octopus or our marketing manager, Margaret's beaver as we go along. 
We also have a fully stocked kitchen available for employees to grab a snack throughout the day or make a cup of coffee to stay energized. Every few weeks, we request our favorite snacks to have in the new office and enjoy!
Conference Room
The conference room is where we host many of our meetings, gatherings, calls, and interviews. We love this space to connect and collaborate on our ideas of how to keep TrackFive awesome! As you can see, there is more graffiti, funky light fixtures, and orange swivel chairs that promote an environment that is fun and functional.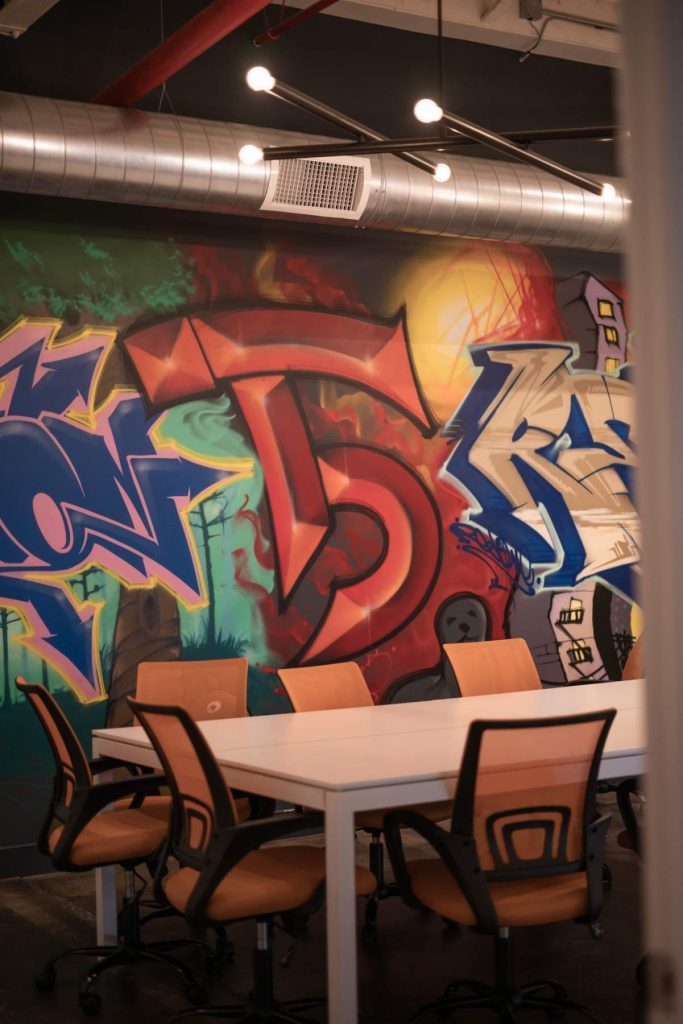 The Pit
'The Pit' is what we fondly call the collaborative space where employees work during the day. The open floor plan allows team members to connect easily with one another, while still being closest to those within their department. Administration, marketing, web development, client success, and sales all have their own space in our new office. I love to sit at my desk among the marketing team while I work on my tasks, while only being a chair swivel away from my coworkers for a quick collaboration moment.
Throughout the whole office, we have beautiful original hardwood floors and exposed structural support, along with motivational phrases posted through all areas of the building that add to the workplace environment. There's no doubt that it's easier to get work done in a great atmosphere, and the new office definitely provides that. You can see some of our employees hard at work, enjoying their new desk set-ups.
Sales
Every department of TrackFive is important to the overall success, but our Sales team is the one who brings in the big bucks. They are on the phone most of the day pitching our services to potential clients and making new sales, so that's why they are in their own room- so they can focus without the extra sound that comes from The Pit. However, the rustic sliding door is usually open to allow for communication between Sales and Client Success. This room also has a smaller conference room for other meetings.
The Jungle Room
The Jungle Room is a staple in all of the offices of TrackFive past, so it was fitting that we created another one in our new office! This space is full of (fake) plants and brings a little bit of nature inside of the office. Plus, just saying we have a jungle room just sounds cool, doesn't it? While we host many interviews here, it is also a place to relax, eat lunch, or read. Our library features a variety of books, most of which include titles on marketing and crime. Here at TrackFive, we're big fans of both!
What you don't see in the new office…
Of course, this tour doesn't capture every part of our new office. We have a hallway filled with individual offices, and a video studio with top-of-the-line equipment to create dynamic marketing content. During the pandemic, we put a hold on most of our video marketing content because there no location for filming. Now, we're so excited about what we have planned for the studio in the new office. Keep your eyes open on our YouTube channels in the next few months!
Most of all, what you don't see in pictures is the joy that we feel to be here. While coming into the office is still optional, many of us have begun to transition back into this space. One of the best parts about being a TrackFiver is the company culture and the people who work here! We love our work and we love our team members. TrackFive worked to cultivate that culture while at home, but bringing it back into the new office is so special.
We are so excited about what is in store in this new office. Shoutout to Oliver and his creative vision for making all of this happen, even during a pandemic! We anticipate success, celebration, hard work, collaboration in the coming years, and can't wait to make it happen here!